About the Project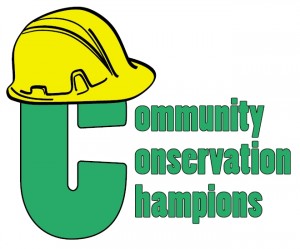 In April 2008 the Herefordshire and Worcestershire Earth Heritage Trust was awarded a three and a half year grant by the Heritage Lottery Fund to set up the Community Conservation Champions Project. Additional funding was also received from Natural England through Defra's Aggregates Levy Sustainability Fund, the Malvern Hills Area of Outstanding Natural Beauty (AONB) and the Tomlinson Brown Trust (for more information about any of the Community Conservation Champions Project funders please see the 'About the Funders' page).
Although the funding has now come to an end, the project will continue thanks to the help of local volunteers.
The aim of the project is to involve local communities and organisations in the understanding, conservation and utilisation of nineteen key geological sites across Herefordshire and Worcestershire. A number of the Champions Sites fall within the Abberley and Malvern Hills Geopark (for further information about the Geopark please see the 'About the Abberley and Malvern Hills Geopark' page).
The nineteen geological sites were chosen based on a number of factors including interesting geology, good and safe accessibility, and an active local community.
Members of the local community around each site were invited to get involved in the project; focusing on conserving the site, understanding the geology of the site, exploring the history and wildlife of the site and utilising the site for recreation amongst other potential uses. People of all ages and backgrounds have signed up to be 'Champions' for their local site.
The role of the champions is to carry out conservation work, promote the use of the site to other people in their parish and monitor the site for any changes in condition. They have been working closely with the landowners at each site and have held events at their sites including guided walks, music festivals, photography competitions and many more (for information about upcoming Champions public events please see the calendar in the box).
Along with understanding and protecting the geology of each site, the idea of the project is to take a holistic view of the environment and to understand the relationships between geology, ecology and archaeology. Detailed surveys have been carried out at each site to ensure the protection of all the important features seen there. It is important to get a balance between all of the aspects of the natural world.
The Champions have received training in a number of subjects in order to understand the features observed at their site. This is knowledge which they will pass on to the new volunteers they are actively recruiting. The conservation work being undertaken will help to ensure the protection of these important features and encourage? people to enjoy the natural world for years to come.
If you are interested in becoming a 'Champion' for one of the nineteen Champions Sites then please see the 'Contact' page for further information on how to become involved.