Celebrating Earth Science Week at the Lickey Hills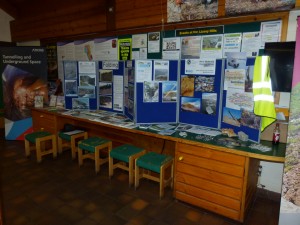 This year's Earth Science Week had the theme of Our Geo-heritage, and we decided to hold an event to celebrate the quarrying heritage of the Lickey Hills. In conjunction with the West Midlands Regional Branch of the Geological Society and the park ranger team, we hosted an all-ages, free activity day at the Lickey Hills Visitor Centre. This was our second event of Earth Science Week, as we also had an open conservation day at Kendal End quarry.
On the day there was a range of things to do – the craft table with colouring in, and badge, fridge-magnet and mask making proved to be very popular. There were also areas for watching volcanoes explode and a dinosaur dig! Our group and the regional Geological Society group had display boards, and members were on hand to give more information and answer any questions about the work we all do, why it is important, and to learn more about the geological side of the Lickey Hills area.


At around lunchtime there was a special green and yellow visitor. Was it a dragon? A crocodile? Or was it a lesser-spotted Lickey Hills dinosaur?! Whatever it was, it seemed very at home in the visitor centre and was even spotted doing some colouring in on the craft table! Take a look at the picture and decide for yourself – I think this was a very rare sighting indeed.

Hopefully this day has spread the word about the group and the geology here and people will come back for events in the future – thank you all for coming and making the day a big success. We're already planning a bigger and better event for next year!
Laura Hamilton